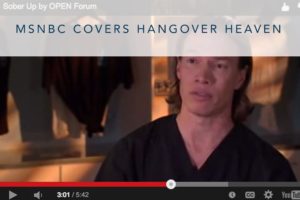 This morning, Hangover Heaven featured on the MSNBC show, "Your Business." Hangover Heaven is a unique business with a unique mission. You can view the clip here.
"Headaches, nausea and fatigue are all some of the dreaded symptoms of the day after a night of heavy partying. If there was a cure for those dreaded hangovers, would you be willing to give it a try? OneLas Vegas doctor has made it his mission to treat sufferers in the city of sin."
Hangover Heaven has also been featured on:
The Today Show
"Hangover Heaven," a bus equipped with IVs, is travelling the Vegas strip, offering hangover salvationto revelers a little worse for the wear after a big night out."
20/20
"These hungover gents could turn to the old standbys — alka seltzer, painkillers, lots of water, coffee, greasy food — and of course, the hair of the dog that bit you. But remember, this is Vegas, baby! Tim and his posse have hit on a new way to beat the odds and their hangovers.
Rolling down the famed strip in what used to be tour bus for a gospel group, it now has a different calling. Not saving souls, but resurrecting bodies in a world of hurt.
The hangover bus is the brainchild of Dr. Jason Burke, an anesthesiologist. About 90% to 95% of people hungover go from 8 to 10 to 0 to 1."
Hangover Heaven featured also on Telemundo and many more.
Click here to view our various news coverage.